Update: I've done a full comparison of
Kindle sales ranks vs book sales ranks here
.
Several small publishers have told me about their experiences publishing ebooks for the Amazon Kindle reader. Since the number of Kindles in existence is limited to a small subset of the reading population for the time being, you wouldn't expect the per title sales to be particularly high. Books that are available as Kindle ebooks do have the advantage of swimming in a smaller pond, as only a subset of all books have been published in Kindle version, so I was curious to see what the sales ranks were telling us. Since the publishers I know with Kindle sales aren't selling large numbers of books, I spent some time searching for a Rosetta stone. The graphs shown below were generate by
Charteo.us
for an anonymous title (I removed the name to protect the innocent), for which the Kindle and paper sales volume was identical. The only variance is the magnitude of the peaks, which is due to their being sampled at different times of day.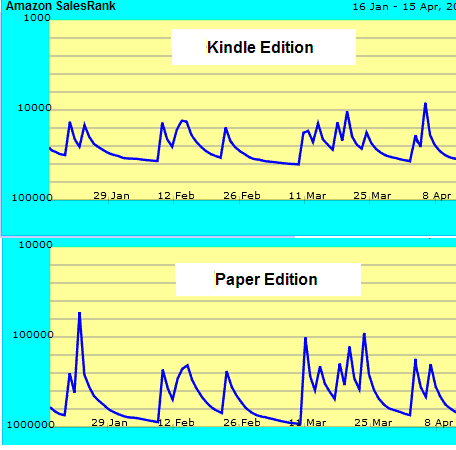 I counted 12 unique sales over the 3 month period on both graphs. The graphs are on a semi-log scale that doesn't show the gradations, so I'll point out that the Kindle rank doesn't drop below 30,000 during the three months, while the paper book rank drops all the way to a million between sales. Charteo does report the average over the period, which was about 26,000 for the Kindle rank vs 650,000 for the paper book rank. Referring to my graph for estimating the number of copies sold by
Amazon sales ranks
, a book with an average rank around 26,000 would be selling just under 20 copies a week on Amazon. Without adjusting for seasonality, that suggests that the sales of Kindle ebooks in this part of the ranking curve (from the 1,000's to the 10,000's) amounts to dividing by 20.
But here are some caveats. First, there are far fewer Kindle titles than paper titles available, so the curve is greatly compressed. The lowest Kindle rank I've seen for an ebook that's sold a copy is around 60,000, while nearly a hundred times that number of paper books have ranks. Secondly, there's no reason to believe the relationship holds up for the top sellers. While I found an example that was in the Top 10 at one point (both Kindle and paper) and the sales patterns track perfectly, there were so many sales that the curves become smooth and I can't count peaks to get sales totals. It's also possible that a book selling that many copies would show somewhat proportionate paper and Kindle sales for natural reasons.
I don't know why Amazon has chosen to count sales of Kindle versions together for at least some number of titles. I remember that back in the mid-2004 to mid-2006 period when I sold around 1,000 ebooks through Amazon as PDF's, the ebook sales ranks were entirely independent of the paper book sales ranks. At that time, two of my ebooks often broke into Amazon's Top 10 and pretty much lived in the Top 100 while averaging a little under one sale a day each. The danger of extrapolating potential Kindle sales from that experience is twofold. First, anybody with a computer could buy the earlier PDF ebooks, you didn't need a $399.00 Kindle to read them. So the potential market was much bigger. But on the other hand, the Kindle market is somewhat captive. Having spent $399 on the reader, a person has a high motivation to buy something to read on it.
I haven't seen Amazon publicly report on the number of Kindle units sold. I'd be surprised if they hadn't sold tens of thousands by this point, but I'd be equally surprised if they've sold hundreds of thousands, since I haven't stumbled across anybody using one yet. I also found the relative lack of correlation between the New York Times Bestseller list and the Kindle Bestseller list interesting.
[Friday April 18th edit]
I think this is the first time I've ever gone back and added to a post, and that despite the fact that nobody is interested:-) Some further research convinces me that the title I used for a test case sold primarily in the paper version, perhaps only a single Kindle copy was sold. That would change the Kindle sales rank equivalency to a ratio closer to 1:200 in the 1000's to 10,000's part of the curve. It's starting to look to me like Amazon starts showing a Kindle rank as soon as a copy is sold, and from there it just tracks the paper rank in some relationship.