Everyone who publishes eBooks is familiar with piracy and widespread redistribution on file sharing networks by this point. Filing DMCA takedown requests for copyright infringement usually results in the offending site removing the file, and the offended pirate quickly reloading it, sometimes with a change to the file name or title to get past crude filtering techniques. But what happens when the infringement isn't a mirror copy of the original but a
mashup
?
Last week, I came across such a mashup on the DocStoc website after Googling a unique phrase from one of my books. DocStoc was selling the book for $10.93, which I assume means the individual who uploaded it assigned a price and will get the majority of the earnings. I filed a standard DMCA takedown request with DocStoc, and received a reply from their technical support that while the title of the file was the same as my book and they would change that title, it wasn't an infringement and they wouldn't take it down. When I wrote back pointing out that their own search function brought up the file for unique phrases from my copyrighted work, I received no answer. So the next day, I purchased the file to be able to definitively show that the eBook they were selling had ripped-off my work. I documented this in the screen capture video below, my apologies for the broken commentary, but I wasn't going to make multiple purchases for multiple takes:
Finding that the eBook for sale was a mashup of book excerpts from my website and articles from a computer support website was no surprise, but the Trojan virus downloader took me aback. I would have assumed that DocStoc would at least pre-scan the files that were uploaded so they don't spread viruses to their user base. Another surprise was finding out that PayPal wouldn't refund my purchase. I had chosen PayPal thanks to seven years of a good working relationship with them, and thought that they offered the same protection as a credit card. It turns out that they won't refund for purchases of fraudulent goods or materially misrepresented items, unless the sale takes place on eBay. I invited PayPal to comment for this post without a response, though I did just hear from DocStoc thanking me for pointing out this problem, probably a damage control intern posing as the CEO.
I've seen a number of mashups with my copyrighted content over the years, some of which seem to have been created for the sole purpose of promoting the pirated eBook. Here's an example of a pirate who added a "bonus" infringement to an eBook I originally published in 2004 with Adobe DRM.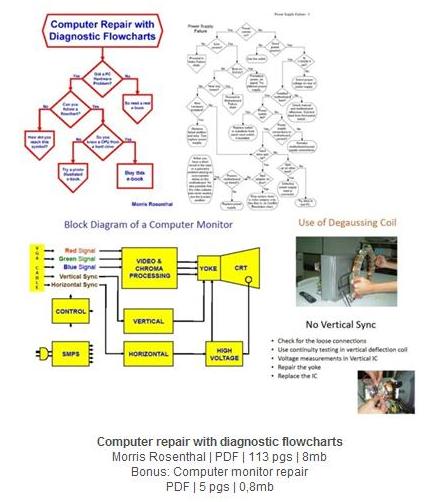 Pirates who do mashups can be quite indignant about being identified as copyright infringers. When I commented on a pirated copy of my Laptop Repair Workbook on ScribD that it was a copyright infringement, the uploader actually responded to me saying that his friend had bought a copy of the eBook and he himself had edited it (removed my name and license agreement and added "for ScribD") and concluded, "What are you doing on ScribD anyway?" I leave out the explitives. Another over-active pirate decided that the 2004 version of my computer flowcharts eBook he ripped-off needed an update. He found those updates on my website, and bundled them with the PDF for a file mashup.
My favorite creative rip-off to date was a user on Demonoid who posted a copy of my Laptop book, complete with a link to my Youtube
book promotion video
, to encourage picky downloaders who aren't willing to steal just anything. The thread included 57 thank you notes posted to the generous pirate patron, including one reading: "Gr8!! I've been looking for this... Ur #1!!" I guess that makes me #2, which isn't such a good thing in either baby talk or eBook publishing.
As I wrote just last month in concluding that
DMCA encourages piracy
, my primary concern is honest individuals being led to piracy sites by search. Searches on an author's name today often bring up a piracy site in the top ten results, either in the text search results or the integrated image search results. I first noticed a few weeks ago that half the images coming up above the fold on standard Google search results for my name led to piracy sites. I've been using the "Report image" option to try to weed them out with some success. As of this morning, only the last image led to a piracy site.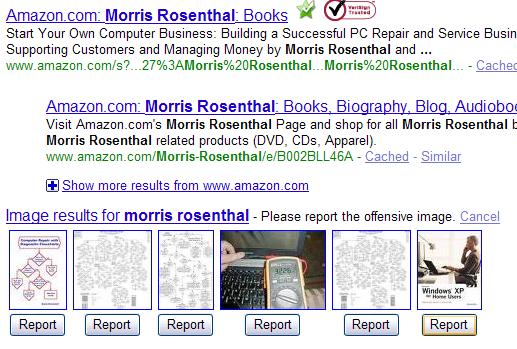 Add "ebook" to a search on an author's name, and the majority of the results may be piracy sites. I spent about 20 hours in the past week filing DMCA takedown notices and fighting off viruses. Maybe that will help keep the lid on for another few months, but it's clear that word-of-mouth customers searching for an author's books can easily be led astray into piracy sites, without ever realizing they are doing something wrong. In some cases, they may pay a subscription fee to the piracy site in the belief that the author or publisher is getting a share, just like buying an eBook on Amazon Kindle or Apple iPad. Unfortunately, unlike Amazon and Apple, some piracy sites specialize in trying to get you to install malware under the pretense of protecting you: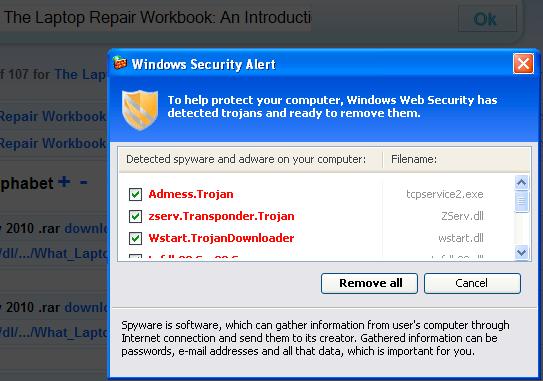 Hint: Never click "Remove All" on a pop-up window. Close the screen, preferably after severing your Internet connection to avoid mistakes.