I wrote and deleted two blog posts earlier today, the first about self publishing for professionals who are more interested in reputation than book sales, and the second about the impact of Amazon reviews on book sales. I abandoned them both in the proofreading stage because they struck me as dry and repetitive. If you've stopped laughing long enough to continue reading, yes, I do proofread my posts, I'm just not very good at it:-)
What I learned, at the cost of a day, is that I'm burning out on blogging even at the once a week rate. It doesn't help that I see I continuing decline in search visitors to the blog, due to the
inherent limitations of blogging
and the general decline of interest in the self publishing subject. The latter may come as a surprise, given the media hype about self publishing and consolidation in the author services industry, but take a look at this Google data: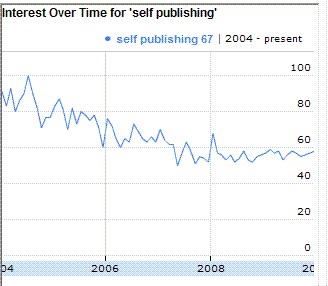 That's the organic search traffic, and I don't think that Google even adjusts it for their growth in market share over the period. So while interest may be growing in author services and self publishing boutiques that will turn your photo album into a short run family publication, the number of authors using the Internet to research self publishing as a business is shrinking.
Whatever the case may be, this is just a short announcement that I'm going to give up blogging on a schedule and only write about self publishing when I feel I have something new to say. I thought I'd just link a half dozen of what I felt were the best self publishing posts I made during the past year for newcomers stumbling onto blog.
Viral book marketing case study
Authors, Customers, Editors, Distribution and Google
Pretty websites don't sell books
Why self publish?
YouTube Video and book marketing
The future of the offset printing business model
Pretty slim pickings, but I didn't want to go back any further. If you're
subscribed to the atom feed
, it will let you know when I post next.