The heart of the 20th century publishing model was the offset press. Employing an intermediate roller to transfer the ink to the paper allows for much higher speed, the use of roll stock in a continuous web and lower printing costs in high quantities. But the
publishing model that grew up around the offset press
is sorely pressed itself, with newspapers and magazines failing by the day and trade publishers desperately searching for new sources of revenue. The offset press, as brilliant an innovation as it was, can't compete for speed with the Internet or for flexibility with print on demand.
The
Espresso 2.0
machine recently introduced by
On Demand books
is another step in the direction of a new publishing ecosystem. A self publisher with access to an Espresso 2.0 machine and a properly formatted book on a USB memory stick can walk away with a printed and bound book five minutes later. An Espresso 2.0 machine running full out may not reach the annual turnover of a small independent bookshop, but Espresso 2.0 machines located in hundreds of independent bookshops or chain stores would have a tremendous affect on the traditional publishing model. The application I'd love to try myself is to put an Espresso 2.0 in a small storefront with pedestrian traffic in a foreign city with strong demand for English and other non-native titles. In a city like Jerusalem or Tel Aviv, selling titles printed on demand from the Lightning Source library, along with printing books on the spot for self publishers and helping them gain access to international distribution, would make for an interesting business.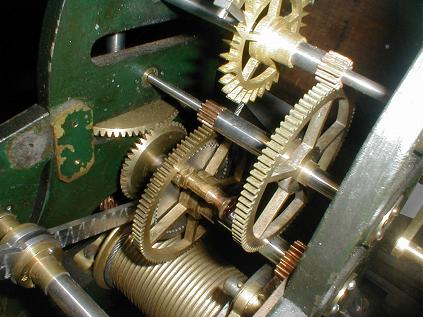 But is the bell tolling for libraries as well as the offset press? The picture above is from a 100 year old library tower pendulum clock, and believe it or not, I was there today with a friend to fix the trip hammer that tolls the hour on the bell (you can see the hammer over my shoulder in the video below). Many libraries in America are in a serious bind, as funding cuts combine with increased demand for non-book related services to reduce the budget for collection building. But integrating the Google Books library (I'm looking ahead here) and Espresso 2.0 machines would help libraries serve patrons who aren't interested in the latest bestsellers, and to serve them more efficiently than purchasing those books out of distribution. Maybe a Bookmobile featuring an Espresso 2.0 and shared between several towns will become a standard feature of 21st libraries.
In a brave new business model, the library might offer the patron the opportunity to purchase the book for a "donation" that covers the immediate costs associated with downloading and printing it. Otherwise, the book would end up in the library collection when returned, and the librarian could inform that patron that rationing is now in effect:-) As a long toothed library hound who is constantly checking out books from the stacks that have yet to be cataloged (and sometimes have
never been read
), I'm the last person who would suggest that libraries should exit the business of providing low demand books. But it would be more efficient and cost effective to provide these books only when the demand materializes in the form of a patron walking in and asking.
So how many Espresso 2.0 (and later generation) machines would it take to change the world of publishing? A hundred wouldn't be enough, but I think offset printing would reel under the impact of a thousand. It's not that any POD machine can, or ever will, print books cheaper than an offset press in quantity. It's that all non-offset book sales will eat into the offset business model. I frequently point out that Amazon presents a direct threat to the offset printing model, simply by their exploration of alternative book production and delivery systems, such as POD and Kindle, along with the
leverage the Amazon platform gives them with publishers
. It isn't necessary that Amazon, Lightning Source or the Espresso machines produce and sell hundreds of millions of books outside of the offset based system to deal it a death blow, they only have to change the economics enough on the margin so that publishers abandon offset for all but the surest bestsellers and most reliable mass market romances.
After our library clock surgery, it's been tolling the hour properly, but a half an hour late. Even though I rushed the video in today's post, I'm not likely to try another take, but maybe I'll get some good footage of the clock chiming if I go out there again.