"Evelyn had looked forward to the hall at Knaresdean with feelings deeper that those with usually inflame the fancy of a girl proud of her dress and confident of her beauty."
That line is taken from Lytton's "Alice", the top of the page where my bookmark happened to be. It would be very unlikely to attract any potential readers from search traffic, especially since the proper name "Knaresdean" isn't a real place. It's also a proxy for the problems that literary writers face online. Literary writers use words to paint scenes and evoke emotions in order to engage their readers, not to attract search engine traffic. But in a world where search engines are out competing bookstores as traffic cops for words, literary writers are left more dependent than ever on bookstore shelf placement and reviews. There aren't a lot of ways literary writers can raise the profile of their work online without becoming social networking phenoms, so I've been working for months on a solution.
Introducing, the HTML innovation that will no doubt earn me honorary PhD's across the globe - the literary ALT tag.
&ltALT LIT="Plain English description of what's going on"&gt
The idea of the ALT LIT tag is to translate literary passages into the lingua franca of the Internet, broken English in most cases, so that search engine users have a chance of discovering high art along with the "art photography" they so avidly seek. Imagine Google sending you to a page starting:
"It was the best of times, it was the worst of times..."
In response to the query:
"What time is it"
Instead of the boring: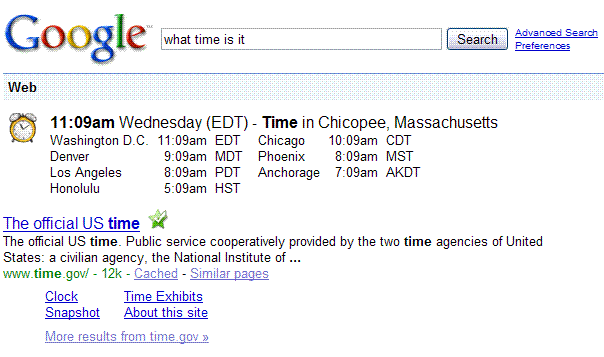 My ALT LIT tag would make this and more possible if only poor Dickens had the foresight to heavily annotate his text with tags like:
&ltALT LIT ="What time is it"&gt
&ltALT LIT ="How far is it from London to Paris"&gt
&ltALT LIT ="What is a guillotine"&gt
or, if he was really clever:
&ltALT LIT ="Cliff Notes for Tale of Two Cities"&gt
Wouldn't that be a good joke on the kids. Of course, the ALT LIT tags are only a start to allow literature to exist on an even playing field with bad prose writing. The next trick for literary writers will be getting good contextual links, so that the content of their ALT tags could be competitive. I believe this can be addressed very simply by organizing university professors to link each other's work the way they assign each other's textbooks. In fact, they might accelerate the process if they forced students to go out and generate links as part of the educational process. At least that way, students graduating in a deep recession would have a marketable skill.
My only worry is that I have the syntax wrong. I'd hate to see somebody come up with the &ltLIT ALT&gt tag and get all the credit!