Based on the number of ebook questions I've been getting, I think it's time to revisit the
ebook publishing
subject. Foner Books has now sold ebooks in over 50 countries worldwide, with eighteen of those destinations bringing three or more customers. While some copies have appeared on various "reputable" file sharing sites, they all removed the unauthorized copies when I followed their guidelines and notified them. No, I don't enjoy jumping through hoops for people with questionable business models, but at least they responded. For the first time in February, Foner Books passed $1500 for the trailing month of ebook sales. This income is based on the ebook versions of three POD titles, and the ebooks were all published directly out of Microsoft Word using the "Save As PDF" menu item shown below: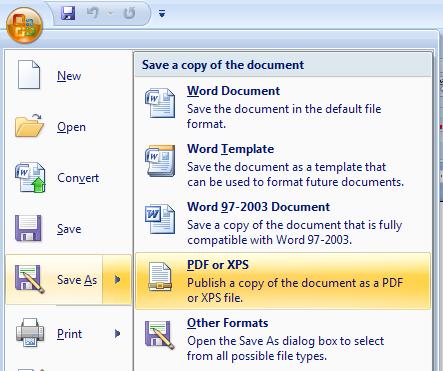 If you are using Word for Microsoft Office 2007 and you don't have the "Save as PDF" plug-in, you can
download it for free from Microsoft
. I've
described the merchant solution
I'm using in previous posts, but to review briefly, Foner Books uses PayPal to process both credit card and PayPal payment orders, and e-junkie as the download service. I should note that many people without credit cards or who don't want to use their credit cards online do buy through their PayPal accounts. The initial problems with people paying and not following through to the download link and
not receiving the confirmation e-mail
because it was eaten by their spam filter have dropped to around one order in a hundred. I've actually had more incidents lately of people accidentally ordering two copies and only downloading one, which I refund immediately without waiting to hear from them first.
Only one of the titles is available both on Kindle and direct from the Foner Books webiste as a PDF, my book on POD publishing. That title has sold 120 copies as a printable PDF file download for $9.95, and 28 copies as a Kindle ebook for $7.95. I don't link the Kindle ebook
directly from my order page
, and only two of the Kindle purchases were credited to the Foner Books Amazon Associates account, so those Kindle sales are mainly created by the Amazon platform. Due to the lower publisher share paid by the Kindle program (35%), the direct ebook sales accounted for over $1000 of net profit, while the Kindle sales brought in just under $100. .
One concern I have about pushing self publishers to bring out their own ebooks is that they may be misled by so-called ebook coaches or consultants. This morning I heard from an individual who had received a multi-thousand dollar proposal to coach him through the ebook publication process, and he was already receiving regular solicitations from another ebook coach looking to sell him help. All I can say is run, do not walk, for the exit. Compared to publishing trade papebacks, publishing ebooks looks dead easy. After all, the only software you need to generate a saleable ebook is a PDF generator, and you can find free ones online if you're desperate. I use the PDF generator in Microsoft Word because I paid over $300 for Office, but in either case, a great PDF file does not a great ebook make. The main challenge for new ebook publishers is that it seems so easy, they may be tempted to publish garbage. You still need to master the subject and come up with quality writing, editing, proofreading.
PW reported today that Thomas Nelson
is rolling out a unified media program, meaning book buyers will get access to audio and ebook files in various formats for some titles. Other publishers have experimented along these lines with free ebooks, and Amazon has long offered an "Upgrade this book" option for titles from participating publishers, offering cheap, immediate e-access to buyers of a paper book. I don't see ebooks as gimmick or a way to wring a little incremental income out of backlist titles, thanks to the ability of the Foner Books website to attract visitors and potential customers. At this point, ebook sales are running around a quarter of my book sales (or around 50X the trade industry average), despite the fact I've kept my most recent and most popular paper title out of the ebook loop as a control group. And since a significant portion of our paper book sales are driven by the website as well, I'd estimate that if I dropped the POD business and did nothing but sell ebooks direct, it would bring in around $3,000 a month. While I hope to keep publishing and selling with POD going forward, it's nice to have a fallback position that will pay the bills.
It takes two basic ingredients to make money selling nonfiction ebooks: the knowledge to write the books, and a platform from which to sell them. For a handful of authors, that platform is Amazon or one of the commercial ebook sites, but that requires a bestseller, of which there can only be a few. Yet new ebook publishers I've corresponded with are often laboring under two misconceptions: that they can hire the talent to write quality ebooks, and that they can sell them through extensive use of advertising. Unless you pay well above trade publisher rates, you aren't going to find somebody to write a quality book as work-for-hire, so think five figures. But the ebook outsourcing schemes I've seen promoted talk about getting content for a few hundred, or at most, a few thousand dollars, which is barely enough to pay for a decent edititorial pass and proofreading. The other side of the equation, selling without a platform by paying for Internet advertising will bring you sales, but those sales won't be cheap and you'll have to be an excellent bean counter to make money even if you've written a great book yourself. If you're wondering why I've used "book" and "ebook" interchangeably, the work is the same for a real publisher, right up until you get to the publishing part and start selling downloads rather than having books printed.
If I could establish a creed for ebook publishers, it would be, "Don't publish an ebook you wouldn't want to buy yourself." In the meantime, I've reverted the blog title to Self Publishing, but with version number 2.0.