Jeff Trachtenberg reported in the WSJ today that Author Services (oops, make that Solutions) Inc. is acquiring Xlibris. That brings the original Big Three of the author services companies (critics term them vanity presses) under one umbrella. In the same article, Tractenberg reports that Lulu has cut their staff by 25%. Consolidation and cut-backs immediately brings to mind an industry in recession, but that may not be the case here. The reason is the rapid build-out of Amazon's self publishing services, which may be forcing these acquisitions and cuts as a defensive measure.
The graph below shows the title count on Amazon for the players involved in this news for the last six years. Note that both BookSurge and CreateSpace are Amazon acquisitions, as they bought their way into the POD driven self publishing services industry. Note also that the number of titles listed on Amazon does not equal the total number of titles published by any of these companies. But titles that are published without access to Amazon are generally non-commercial, printed at low cost for friends and family.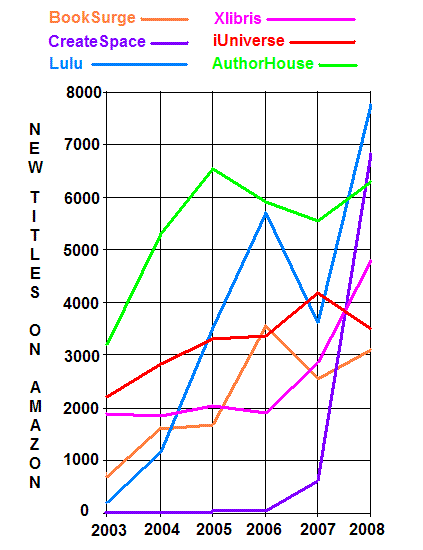 The numbers I used to draw the graph were gathered from Amazon and are included on my
sales statistics page
. The combined Author Services imprints of AuthorHouse, Xlibris and iUniverse made the most titles available on Amazon in 2008, but the two Amazon entities, BookSurge and CreateSpace, are gaining rapidly. It looks like Amazon is moving closer to dominating the author services world, even as they've become the main player in the
trade book business
.
Of course, paying to get a book published and making a living as an author are two different subjects, and I'd be surprised if one in a thousand authors using these companies to publish original works can make a living at it. See my
interview today with Aaron Shepard
if your ambition is to make a living selling your books through Amazon.