Fall is here, the stock market is wobbling, and the interview I had planned to post today is running late:-) All good publishers are turning their eyes to "I told you so" titles and disaster books, like "The Crash of 2008" and "The End of The Housing Economy." Most titles will blatant attempts to snatch low hanging fruit - any old tripe mixed in with public domain government statistics to fill out the space between the covers and leave readers with the satisfying bad feeling that they crave. I do my own
economic ranting
in a blog, but I've never been tempted to publish a "I told you so" title because I don't think those books help anybody. One day I might publish a title about managing personal finances in the hopes it might actually help a few people understand credit and savings, but it's a project I'll back my way into through web articles.
As publishers stampede to publish disaster books, I don't want to be totally left out, so I was thinking about doing a title on vampire bees. I think it would work on several levels, as vampire titles are extraordinarily popular, bees are in the news with colony collapse disorder, and bees are also a huge demographic group, although their limited access to credit may turn out to be a stumbling block. All of this would be pointless if I hadn't captured photographic proof of vampire bees at work in Massachusetts last week: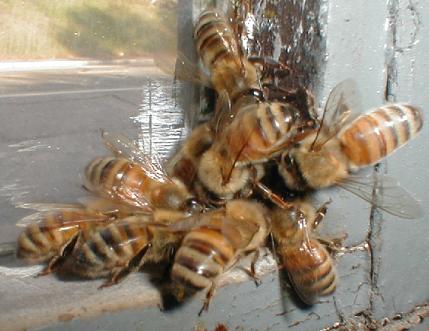 I'd hate to be the bee victim at the bottom of that feeding frenzy, I didn't stick around to find out. Another factor is that I already have a
vampire fan club
of sorts, though I worry she might be talking fang in cheek. On the practical front, vampire bees provide a simple explanation for colony collapse disorder that politicians can understand, so maybe I could get funding from the Farm Administration for my research. I think I'd start by buying a lot of honey and making sure it's still sweet.
The interesting thing about disaster books of all kinds is that it pays to have bad timing. For example, most people with common sense realized the country was in a housing bubble by 2003 or 2004 at the latest, but savvy investors lost billions of dollars betting too early on the collapse of the housing market. Being right doesn't translate into making money in the investing world, timing is everything. Disaster books, on the other hand, do best if they are published well before or well after disasters. Books about the housing bubble published in 2003 or 2004 did well with the pessimistic crowd and are getting a second life today. Books published as authoritative histories of the housing crisis will do well in a couple years. Disaster books aren't as news dependent as publishers think, it's impossible to get the timing exactly right and unless it's a how-to book, it's hardly a compelling buy for people who've had their life's blood sucked out by investment banking vampires.
In case you've actually read this far, I may as well throw in a serious warning about writing and
publishing in an extended economic downturn
. When businesses have a hard time attracting new customers, they try to maximize the revenue they earn from their current customers. In the author services business, where the worst publishers are no better than vampires preying on aspiring authors, this means multiplying the useless marketing and promotional services they offer. The only useful service you can purchase from and author services company is getting your book in print. Anything on top of that is blood poured in the gutter.