I got so much feedback about my pre-holiday post on
publishing science fiction
anthologies that I decided to address one of the issues multiple people pointed out to me. It came phrased different ways, like "People would rather see it than read it" and "Horror is where it's all at now." When it comes to visuals (TV, movies), I suppose even I would rather see a vampire fashion model in the changing room than a bunch of space suit wearing astronauts drinking reprocessed bodily fluids through straws. But I ill-spent so much of my youth reading science fiction that I've been assuming it hasn't gone away without checking. So, being a big Google Trends fan, I decided to have a look at what people are searching for.
This
first trend is science fiction vs. vampire
, sci fi drawn in a friendly light blue and vampire in blood red.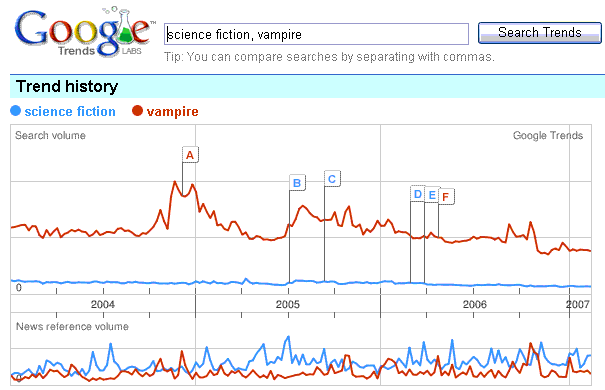 Vampire, unfortunately, is kicking science fiction's behind, though of course, a lot of those vampire related searches are non-fiction:-) Strangely, the much maligned mainstream media had fewer stories about vampires than about science fiction. The next
trend shows science fiction vs time travel
.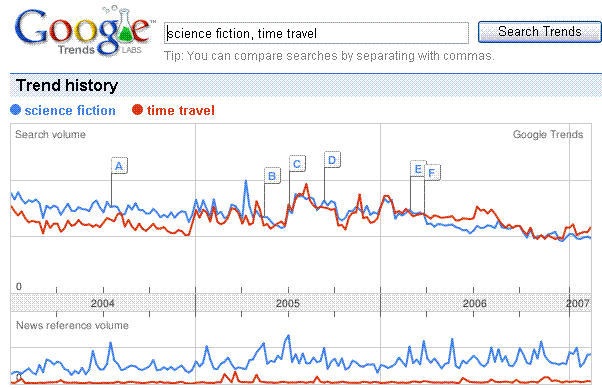 Recently, time travel has gotten more internet search activity than science fiction, which implies that much of the interest in sci fi is disguised in other search terms. Which is a good time to point out that I didn't include trends with either "sci fi" or "SciFi" because both are closely associated with the SciFi cable channel, which is a different beast altogether. Now that I think about it, I watched
quite a few episodes of Babylon 5
when it was on in the mid-90's and I had a television. Good show, whoever created it.
But what none of my correspondents mentioned, probably because they are all in their middle age on up, is the impact of video games on what was once a core demographic group for science fiction. I wouldn't be surprised if a lot of the apparent lack of interest in reading spaceship and alien encounters type sci fi is due to the availability of games and gaming counsels that soak up the same free time. With the rise of multi-player games, playing at science fiction is arguably a more social activity than reading it, even if that social time is largely taken up with killing and destroying stuff.
I'm not trying to say that I'm an old man, but I know kids who play video games and I don't get what makes them tick, so trying to publish science fiction for them wouldn't be too smart. That leaves the thinking man's science fiction or literary sci fi, for the sci fi retro crowd. At the moment, I have no idea how big or tiny that crowd is, but I've started grinding the wheels of research so hopefully I'll have a better take on it by the end of June.